Can this be Randolph County
Melvin Cain story
On Saturday morning, January 1, 1949 Audie Lee Brown shot Edgar Melvin Cain in the back with a shotgun as they walked through the woods near Pilot Mountain. Brown had planned the murder in advance. And even had contemplated robbing another individual as well. On Thursday December 30, Brown and Wade Brady walked into the Bank of Coleridge in Ramseur and spoke to Garland Allen. Brown had a $100 outstanding note and asked to borrow more. The two also inquired about the amount of money in the vault. Finally, Brown asked Allen if he wanted to see a calf, for the purpose of purchasing it. Allen declined and the men left the bank. The following day, Brown approached Cain with the same offer. Cain agreed to meet Brown at Brown's home the next morning. Before leaving for Brown's, Cain, who lived in the Erect area, told his wife that he would not be gone long. He drove his 1948 ¾ ton Ford pickup to Brown's home where he found Brown just getting up. Brown said that he did not have the calf, that it was located nearby and that they could go there on an old woods road. They drove to the old road and parked the truck and began walking. About ½ mile from the main road, Cain moved out in front of Brown, Brown raised his 16 gauge Fox shotgun and shot Cain in the back of the neck. Locals say that there were two others with Brown at the time, Marvin Staley and Wade Brady. He then removed Cain's billfold. Cain was known to carry large sums of money on his person. His family believed he had between $1000 and $1200 with him. Brown carelessly dropped the billfold about 100 paces from the body. However, he did try to conceal the gun, placing it next to log. In his haste he lost the wood handgrip to the gun in the vicinity of the body. A neighbor, Clifford Williams heard a shotgun blast about 9:30 that morning near Pilot Mountain but assumed that someone was hunting and thought nothing more of it.
That evening, Cain's family became increasing alarmed at his absence and called Sheriff Ben Morgan. Morgan began piecing together the events leading up to Cain's disappearance. Later that night Morgan located Cain's pick-up. Clifford Williams had dragged the truck with his tractor to the side of the woods road so he could get a load of wood through. Walking through the woods at night, Morgan and neighbors searched for Cain. In the early morning hours of Sunday, a couple of neighbors located the body along the woods road heading from Holly Springs Church to the foot of Pilot Mountain. Also found nearby was the woodgrip from a shotgun and Cain's billfold. The billfold contained a driver's license and other papers but no money. A few nickels and dimes were found in Cain's pocket.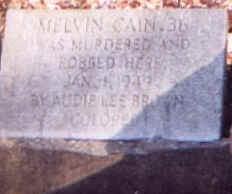 Immediately, Audie Lee Brown became the prime suspect. Upon learning of Cain's disappearance, police began the search for Brown. Later it was learned that Brown had traveled from Asheboro to Franklinville to Liberty and finally by taxi to Ramseur where he was arrested Saturday night by Highway Patrolman O R Vaughn and Ramseur Police Chief B C Macon at Poole's Beer Parlor. A search turned up 3 one hundred dollar bills and $90 in small bills. Also arrested with Brown were Marvin Staley, Brown's brother-in-law and Wade Brady. Staley stated that he had seen Brown and Cain in Cain's pick-up truck that morning near Holly Spring's Church. After being arrested on suspicion, Brown was taken to the Randolph County jail in Asheboro and later to the Guilford County jail in Greensboro. After news of his arrest spread, a group of about 300 masked men assembled outside the Randolph County courthouse and jail where only two officers were on duty. About 20 of the men were led through the jail to show them that Brown was not there. Satisfied that Brown was not there the crowd dispersed peaceably. However, later, a number of vehicles drove through the Piney Ridge area, a Black community where Brown lived, and fired shots. No one was injured in the incident.
During the next few days, Sheriff Morgan coaxed a confession out of Brown. Morgan stated that Brown broke down and cried like a baby, saying he didn't know why he committed the crime. On Tuesday January 4, Brown was brought back to the scene of the crime. Handcuffed to Sheriff Morgan, Brown led police along the woods road and then through some swampland to another woods road which led to Hal Goldston's property. There the gun was located near a log. Brown had disassembled the barrel from the stock and dropped the handgrip back near the body. A shotgun shell found near the body matched the gun. The wood handgrip also fit the barrel. This seemed to be more than enough evidence to convict Brown.
Brown was arraigned in early February and tried at a packed trial about a week later. Sheriff Morgan was the State's main witness although a number of others were paraded through. Judge Coggin removed the jury briefly while deciding if Brown's confession could be entered as evidence. Coggin ruled that Brown had freely given his confession and the trial resumed. Cain's widow softly wept while testifying that the wallet was the one she had given Melvin for Christmas. Brown's wife also wept during the trial with Brown comforting her several times. Brown remained composed throughout the trial. The trial lasted a half day and the jury of 13 men brought a verdict of guilty back in just 4 hours. Judge Coggin immediately sentenced Brown to die in the gas chamber on April 8. That night, Sheriff Morgan drove Brown and another prisoner to the State Prison in Raleigh where Brown was admitted to death row. At the time of the trial, Sheriff Morgan expected Brown to die as scheduled on April 8, yet an appeal was made on Brown's behalf delaying his execution until a later date. Locals say that Staley and Brady were also convicted and killed themselves before they could be executed.
A stone marker now lies along the woods road where Melvin Cain was killed. That marker can be reached by following the footsteps that Melvin Cain and Audie Lee Brown took on the morning of January 1, 1949.
Jim Plant